Joint meeting EMLex Sustainability Committee and EMLex Promotion Committee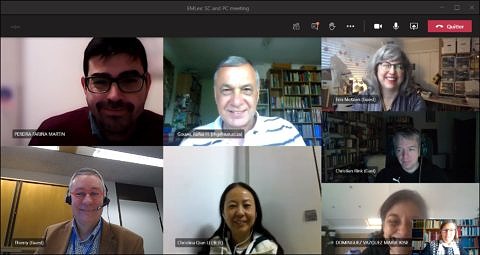 On 10 December, a joint meeting between the EMLex Sustainability Committee and the EMLex Promotion Committee took place under the presidency of Rufus H. Gouws (Stellenbosch) and Martín Pereira Fariña (Santiago). Other members present were:
– from the Sustainability Committee: María José Domínguez Vázquez (Santiago), Thierry Fontenelle (Luxembourg), Christina (Qian) Li (Guangzhou), Erin McKean (San Fransisco), Irene Renau (Valparaíso), and Jürgen-Matthias Springer (Frankfurt);
– from the Promotion Committee: Éva Buchi (Nancy), Christian Rink (Erlangen), and Olga Voevodina (Rome).
The joint meeting, which Rufus introduced as "historic", turned around topics of shared interest like strategic relationships to companies, internship opportunities, promoting EMLex on social media, and the EMLex alumni network. The outcome of this most productive meeting was so beneficial that the members of both committees agreed happily to a yearly joint meeting from now on.