EMLEX – UMinho: Promotion Rika Bokau's defense act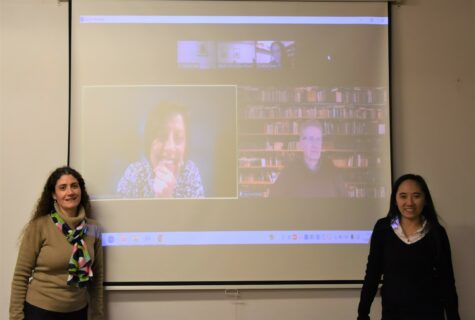 It is our pleasure to announce that Rika Bokau of the Herbert Ernst Wiegand Class concluded the EMJMD-EMLex Program at the University of Minho successfully, having defended her Master's Dissertation, titled 'Funktionsverbgefüge in Lernerwörterbüchern des Deutschen im Rahmen des konstruktionsbasierten Fremdsprachlernens und –lehrens', on the 17th of January 2023.
We wish Rika all the very best for her personal and professional future.
A heartfelt thank you goes out to Michael Klotz (Friedrich-Alexander-Universität Erlangen-Nürnberg), supervisor of the dissertation, and Maria José Domínguez Vázquez (University of Santiago de Compostela), external evaluator, and all the EMLex teachers and fellow students who contributed to Rika's's EMLEX experience.
Muito obrigada!