Oxford ELT Dictionaries at FAU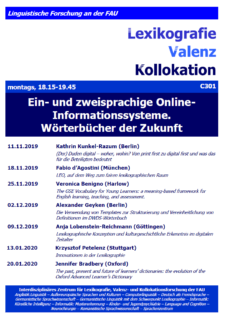 After DUDEN, LEO, Pearson GSE, DWDS, FWB and PONS we were happy to have a presentation by Margaret Deuter, the managing editor of Oxford ELT Dictionaries. The very interesting talk "The past, present and future of learners' dictionaries: the evolution of the Oxford Advanced Learner's Dictionary" gave us very deep insights into the work of the well-known publishing house Oxford University Press.
It was the last presentation in the lecture series of renowned dictionary publishing houses and online dictionaries at the FAU, which was organized by the Interdisciplinary Centre for Research on Lexicography, Valency and Collocation and the EMLex. The whole lecture series was filled with interesting and exciting discussions, and finally can be seen as a success for the lexicography in Erlangen, because on the one hand, the students of the European Master in Lexicography program as well as all other participants could enormously benefit from it. On the other hand, we made further steps to bring together the practical and the scientific lexicography. We also want to thank again all the lecturers and participants, which brought these events to this success. Moreover, we are looking forward to further collaborations in this field.